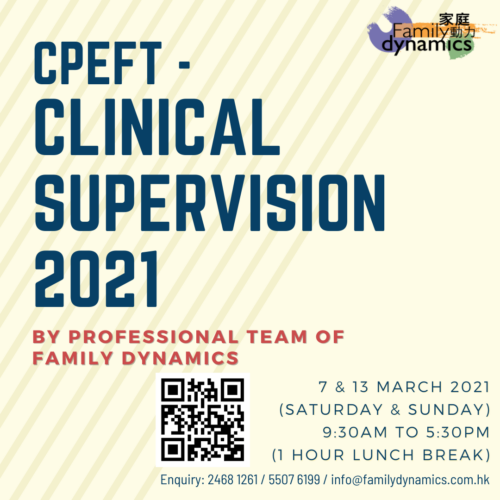 Target Participants
Helping professionals having a master degree in Social Work, Marriage and Family Therapy, Family Counselling and Family Education or its equivalence, preferably with theoretical base and clinical practice experience in family therapy.
Objectives
This Clinical Supervision Group aims at helping participants to apply systemic thinking of family therapy in conceptualization and assessment of clinical cases and enhance intervention skills to achieve therapeutic goals. The presenters will be required to bring their own clinical cases with a written case presentation form and a video/ audio recording for review and discussion while the observers can join the discussion process.
Trainers
Professional team of Family Dynamics, who are Clinical Fellow and Approved Clinical Supervisor or Supervisor Candidates of the American Association for Marriage and Family Therapy (AAMFT) and Fellow of Asian Academy of Family Therapy. They have more than ten years of clinical experiences on working with families, couples and individuals with conflictual relationships, transgenerational issues, parenting difficulties, extra-marital affair, devoice or separation, school refusal and mental health issues.
Date: 7 and 13 March 2021 (Saturday & Sunday)
Time: 9:30am to 5:30pm (1 hour lunch break)
Venue: Rm 901, Park Commercial Centre, 180 Tung Lo Wan Road, Tin Hau, HK
Quota: Maximum 4 presenters and 8 observers each day
Fee: One day (7 hours) $950 (for case presenters) and $700 (for observers)
  Two days (14 hours) $1500 (for case presenters) and $1300 (for observers)
Early Bird discount: 10% discount on or before 20 February 2021