Enhancing Clinical Competence and Practice through Systemic Perspective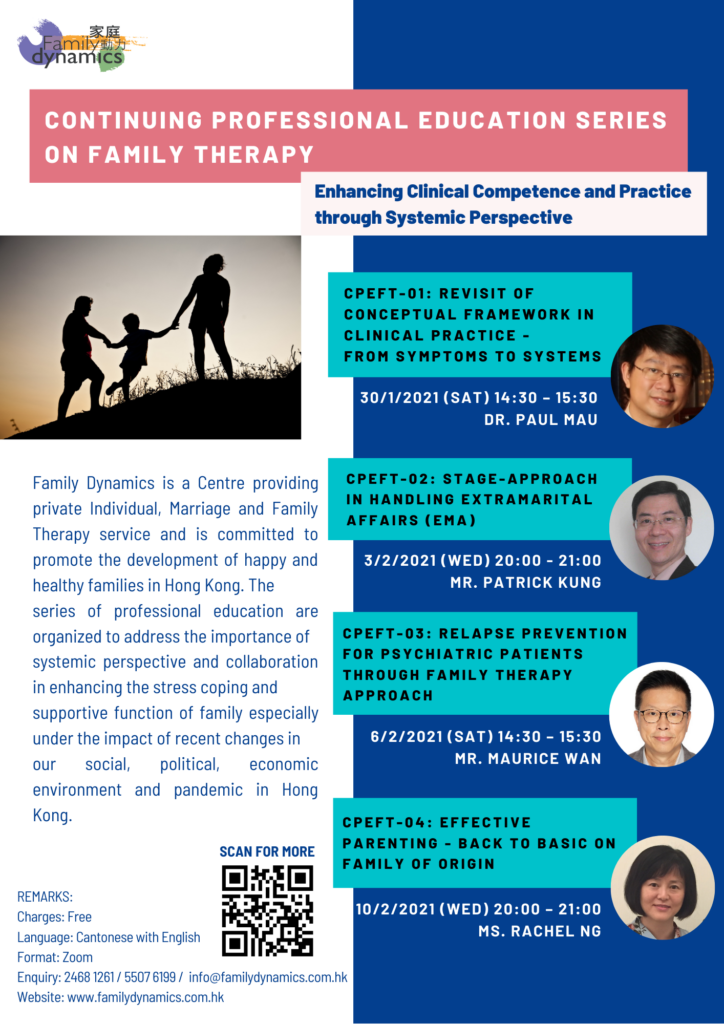 Family Dynamics is a Centre providing private Individual, Marriage and Family Therapy service and is committed to promote the development of happy and healthy families in Hong Kong. The series of professional education are organized to address the importance of systemic perspective and collaboration in enhancing the stress coping and supportive function of family especially under the impact of recent changes in our social, political, economic environment and pandemic in Hong Kong.
Date: 30/1/2021 (Sat) 14:30 – 15:30
Title : CPEFT-01
Revisit of Conceptual Framework in Clinical Practice – From Symptoms to Systems
Speaker: Dr. Paul MAU
Date: 3/2/2021 (Wed) 20:00 – 21:00
Title : CPEFT-02
Stage-Approach in Handling Extramarital Affairs (EMA)
Speaker: Mr. Patrick KUNG
Date: 6/2/2021 (Sat) 14:30 – 15:30
Title: CPEFT-03
Relapse Prevention for Psychiatric Patients through Family Therapy Approach
Speaker: Mr. Maurice WAN
Date: 10/2/2021 (Wed) 20:00 – 21:00
Title: CPEFT-04
Effective Parenting – Back to Basic on Family of Origin
Speaker:Ms. Rachel NG
Target Participants:
Healthcare Professionals including Doctors, Nurses, Social Workers, Counselors, Therapists and those who are interested in the topics.
Remarks
Charges: Free
Conducted Language: Cantonese with English
Format: Zoom
Enquiry: 2468 1261 / 5507 6199 / info@familydynamics.com.hk