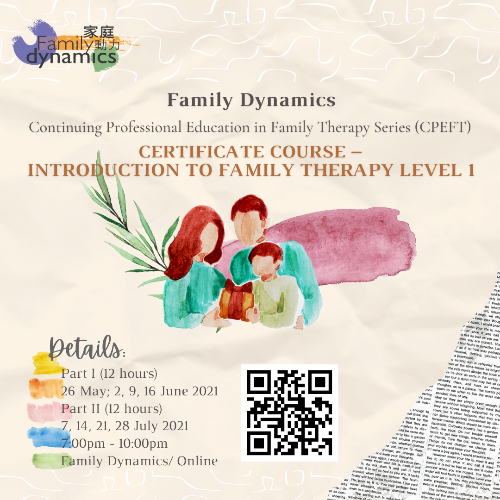 Continuing Professional Education in Family Therapy Series (CPEFT)
Family Dynamics is a Centre providing private individual, marriage and family therapy services and is committed to promote the development of happy and healthy families in Hong Kong.
The Certificate Course on 'Introduction to Family Therapy-Level 1' organized by Family Dynamics aims at –
introducing knowledge in systemic perspective and its applications;
enhancing the competency of helping professionals in their areas of practice; and
facilitating effective intervention in personal growth, marital and family relationship, and mental health issues.
The course will consist of two parts covering theory, conceptual framework, and applications of family therapy with case illustrations where applicable.
Course Outline – Part I
Development of Family Therapy
Working Concepts in Family Therapy (I)
Working Concepts in Family Therapy (II)
Family Assessment – From Symptoms to Systems
Course Outline – Part II
Application and systems collaboration
Couple Relationships
Child and Adolescent Behavioral and Mental Health Problems
Parenting Issues
Family with Mental Illnesses
Course Duration (Part I – 12 hours; Part II – 12 hours)
Part I
 Date: 26 May; 2, 9, 16 June 2021
 Time: 7:00 – 10:00pm
Part II
 Date: 7, 14, 21, 28 July 2021
 Time: 7:00 – 10:00pm
Venue: Family Dynamics Center or ZOOM Class (depending on the COVID situation)
Course Instructor:
Medium of Instruction: Cantonese, supplemented by English
**Promotion: 2 Person Discounts**
Each of you could enjoy an early bird price if you and your friend enrol together on or before 14 May!